Case Study: The Girl Project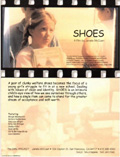 The Girl Project is the production company of independent filmmaker Janelle McCuen. Janelle needed funding to complete the post-production of
Shoes
, her short dramatic film about schoolyard class issues. She decided to seek non-profit organizational sponsorship for the project, so that supporter donations would become tax deductible and therefore easier to obtain. Janelle retained Rocket Words to help with her application for sponsorship from the Bay Area Video Coalition (BAVC).
I held in-depth conversations with Janelle about the inspiration behind
Shoes
, the film's themes and philosophy, and Janelle's plans to distribute the film as a teaching tool. I also closely studied BAVC's application material to understand how to present the application in the way most likely to get the organization's attention. In my discussions with Janelle, I was able to provide a knowledgeable outside perspective that helped her think of her project in new ways and express her ideas and her vision clearly and powerfully.
I then crafted descriptive copy that clearly described
Shoe's
strengths as a film and an education tool, as well as Janelle's critical need for financial support. As the BAVC reviewers were likely to be artists themselves, I made sure to describe Janelle's passion for her project in a way that would help the entire application resonate with the sponsorship committee.
The resulting application was a complete success.
Shoes
received BAVC sponsorship, and the project's resulting non-profit status allowed Janelle to attract a substantial number of supporter donations. With this funding, Janelle was able to complete the post-production process for
Shoes
and begin plans for distribution.
Since our successful sponsorship proposal, I have continued to work with Janelle, helping with promotional work and proposal writing, including a successful grant application to the Open Meadows Foundation. In July 2002, Janelle held a Premiere Party and Screening for
Shoes
, an event for which I handled all copywriting duties, from press materials to the event program and the video packaging. In the future, my collaboration with Janelle will include crafting film festival submissions and grant proposals for distribution funding. I am also looking forward to participating in the development of curriculum material designed to maximize
Shoes'
effectiveness as a teaching tool. With the help of Rocket Words, Janelle has been able to realize her dream of completing
Shoes
and launching it into the world as both an entertainment and a powerful educational vehicle.
"I donít write anything without consulting Jerry. The grace and focus he commits to presenting my work allows me to achieve much more than I have been able to do alone."
— Janelle McCuen, independent filmmaker, The Girl Project
«
Go back